Sensex turns negative; Jindal Steel plummets 9%
By IRIS
Published: 30th August 2013 03:18 PM
Last Updated: 30th August 2013 03:18 PM
Indian markets turned negative towards the close on Fridayafter the Prime Minister speech on the state of the economy in the Parliament. Indices witnessed a fall as Manmohan Singh's speech failed to boost confidence.
The Prime Minister has just acknowledged issues surrounding the economy and reiterated the government's commitment on reforms, current account deficit and fiscal deficit. In addition, Singh said the government has no intention to impose capital controls to correct fall in the rupee.
At 2.22 p.m., the Sensex was trading down 48.75 points or 0.26% at 18,352.29 with 20 components falling. Meanwhile, the Nifty was trading lower by 34.40 points or 0.64% at 5,374.65 with 39 components falling.
Sensex Movers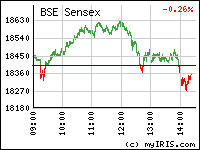 Infosys contributed fall of 25.46 points in the Sensex. It was followed by Reliance Industries (25.02 points), Tata Motors (21.09 points), Oil & Natural Gas Corporation (17.1 points) and I T C (15.47 points).
However, Tata Consultancy Services contributed rise of 25.08 points in the Sensex. It was followed by H D F C Bank (23.3 points), Housing Development Finance Corporation (17.97 points), Hindustan Unilever (6.63 points) and Sun Pharmaceutical Industries (5.34 points).
Major gainers in the 30-share index were Cipla (3.91%), Tata Consultancy Services (2.60%), Bajaj Auto (2.47%), Hero Motocorp (2.19%), Wipro (1.93%), and HDFC Bank (1.61%).
On the other hand, Jindal Steel & Power (9.02%), Hindalco Industries (3.98%), Tata Motors (3.48%), Coal India (2.94%), Tata Power Company (2.66%), and Bharti Airtel (2.16%) were the major losers in the Sensex.
Mid & Small-cap Space
The BSE Midcap index was at 5280.59 down by 20.13 points or by 0.38%. The major losers were A I A Engineering (2.07%), Alstom India (1.96%), CORE Education and Technologies (1.89%), Aban Offshore (0.77%) and A B G Shipyard (0.02%).
The BSE Smallcap index was at 5176.23 down by 4.50 points or by 0.09%. The major losers were Genesys International Corporation (4.52%), Aarti Industrie (2.32%), Styrolution ABS (India) (1.65%), Advanta (1.2%) and Aanjaneya Lifecare (1.04%).
Sectors in Limelight
The Metal index was at 7,718.98, down by 228.87 points or by 2.88%. The major losers were Jindal Steel & Power (9.02%), Hindalco Industries (3.98%), Coal India (2.94%), Hindustan Zinc (1.29%) and Bhushan Steel (0.76%).
The Oil & Gas index was at 7,979.83, down by 114.79 points or by 1.42%. The major losers were Oil & Natural Gas Corporation (2.11%), Cairn India (1.88%), Bharat Petroleum Corporation (1.87%), G A I L (India) (0.31%) and Indian Oil Corporation (0.1%).
The Realty index was at 1,159.64, down by 14.81 points or by 1.26%. The major losers were D L F (3.05%), Parsvnath Developers (2.82%), Housing Development and Infrastructure (1.49%), Oberoi Realty (0.89%) and Godrej Properties (0.56%).
Market Breadth
Market breadth was negative with 1,016 advances against 1,146 declines.
Value and Volume Toppers
Yes Bank topped the value chart on the BSE with a turnover of Rs. 581.51 million. It was followed by Axis Bank (Rs. 539.00 million), State Bank Of India (Rs. 497.17 million) and Tata Consultancy Services (Rs. 404.03 million).
The volume chart was led by Syncom Formulations (India) with trades of over 3.89 million shares. It was followed by Cals Refineries (3.67 million), IDFC (3.22 million) and Jaiprakash Associates (2.99 million).