Wockhardt plunges as UK MHRA regulator withdraws certification
By IRIS
Published: 14th October 2013 12:18 PM
Last Updated: 14th October 2013 12:18 PM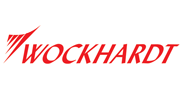 Wockhardt, one of the leading pharmaceutical and biotechnology company, plunged on Monday after it received a communication from the Medicines and Healthcare Products Regulatory Agency (MHRA), United Kingdom, whereby the agency has decided to withdraw the previously issued GMP Certificate to the companyâ™s manufacturing facility situated at Aurangabad and will be issuing a restricted GMP Certificate to the site along with a statement of non-compliance for the said site.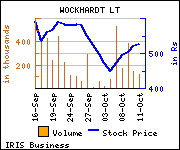 In order to avoid market shortage of medically essential products, the GMP certificate will be conditioned to permit continued manufacturing and QC testing of âcriticalâ™ products in situations where it has been agreed by the national competent authority or EMA (as appropriate) that there is no feasible alternative in the market concerned.Shares ofthe companyare trading at Rs 499.30, down Rs 26.25, or 4.99% at the Bombay Stock Exchange (BSE) on Monday at 11:18 a.m.The scrip has touched an intra-day high of Rs 499.30 and low of Rs 499.30. The total volume of shares traded at the BSE is 12,572.In the earlier session, the shares climbed 0.8%, or Rs 4.15, at Rs 525.55. Currently, the stock is trading down 76.95% from its 52-week high of Rs 2,166.05 and above 45.08% over the 52-week low of Rs 344.15.
Share Price Movement Period Pricein Rs Gain/(Loss) in Rs in % 1 Week 1,044.40 (13.70) (1.31) 1 Month 1,315.25 (284.55) (21.63) 3 Months 1,893.70 (863.00) (45.57) 6 Months 1,586.40 (555.70) (35.03) 1 Year 868.85 161.85 18.63 Note: Based on previous day closing price.