Vascon surges after selling investment in Zenith Ventures
By IRIS
Published: 23rd October 2013 12:18 PM
Last Updated: 23rd October 2013 12:18 PM
Vascon Engineers, a diversified entity having interests in real estate development, surged on Wednesday after it sold out its investment in Zenith Ventures (AOP).
The company has recovered its advance payment interest part and expenses incurred therein.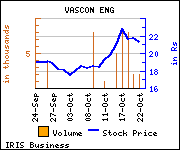 Shares ofthe companyare trading at Rs 22.45, up Rs 1.2, or 5.65% at the Bombay Stock Exchange (BSE) on Wednesday at 10:37 a.m.The scrip has touched an intra-day high of Rs 22.85 and low of Rs 21.90. The total volume of shares traded at the BSE is 5,154.In the earlier session, the shares declined 2.07%, or Rs 0.45, at Rs 21.25. Currently, the stock is trading down 66.32% from its 52-week high of Rs 66.65 and above 38.58% over the 52-week low of Rs 16.20.