Tata Motors' share price rally lifts market value by Rs 70 bn
By IRIS
Published: 14th August 2013 03:18 PM
Last Updated: 14th August 2013 03:18 PM

Shares of India's largest automobile company Tata Motorsrallied on Wednesday after the company owned Jaguar Land Rover (JLR) reportedbetter-than-expected rise of 21% insales to31,611 vehicles in July. During the first seven months of the year, Jaguar Land Rover sold 241,801 vehicles, up 15%.
July sales were strong for Jaguar Land Rover in Asia Pacific up 43%. In the China Regionsaleswent up 36%, followed by North America (up 31%), the UK (up 8%), and other overseas markets (up 29%). Sales in Europe were flat.
The share price rally raised Tata Motors'market capitalisation by Rs 70.06 billion to stand at Rs 866.85 billion.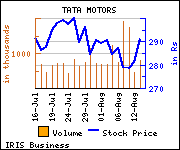 Shares ofthe companyare trading at Rs 316.75, up Rs 25.6, or 8.79% at the Bombay Stock Exchange (BSE) on Wednesday at 2:20 p.m.The scrip has touched an intra-day high of Rs 318.15 and low of Rs 296.30. The total volume of shares traded at the BSE is 1,531,456.In the earlier session, the shares gained 3.61%, or Rs 10.15, at Rs 291.15. Currently, the stock is trading down 6.02% from its 52-week high of Rs 337.05 and above 40.68% over the 52-week low of Rs 225.15.
Share Price Movement Period Pricein Rs Gain/(Loss) in Rs in % 1 Week 296.90 (9.75) (3.28) 1 Month 290.80 (3.65) (1.26) 3 Months 270.40 16.75 6.19 6 Months 306.70 (19.55) (6.37) 1 Year 247.00 40.15 16.26 Note: Based on previous day closing price.