Punj Lloyd gains on stake sale in Olive Group
By IRIS
Published: 24th October 2013 01:18 PM
Last Updated: 24th October 2013 01:18 PM
Punj Lloyd, engaged into engineering, procurement and construction (EPC), gained on Thursday after its Singapore based wholly owned subsidiary, Punj Lloyd Pte has sold its entire shareholding in Olive Group Capital, comprising 27.78% of its capital, for a total consideration of USD 20 million for a mix of initial and deferred consideration.
The company has also bagged a contract worth Rs 2.75 billion on cost plus basis.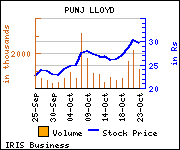 Shares ofthe companyare trading at Rs 30.30, up Rs 0.7, or 2.36% at the Bombay Stock Exchange (BSE) on Thursday at 12:10 p.m.The scrip has touched an intra-day high of Rs 30.70 and low of Rs 29.80. The total volume of shares traded at the BSE is 722,887.In the earlier session, the shares declined 1.99%, or Rs 0.6, at Rs 29.60. Currently, the stock is trading down 52.73% from its 52-week high of Rs 64.10 and above 49.63% over the 52-week low of Rs 20.25.