Piramal Glass jumps on strong Q2 earnings
By IRIS
Published: 21st October 2013 03:18 PM
Last Updated: 21st October 2013 03:18 PM
Piramal Glass, a leading glass packaging company in India, jumped on Monday after it registered a sharp rise in consolidated net profit for the quarter ended September 2013. During the quarter, the profit of the company rose 2.12 times to Rs 91.20 million from Rs 43.10 million in the same quarter previous year.
Net sales for the quarter rose 11.39% to Rs 4,699.70 million, compared with Rs 4,219 million for the prior year period.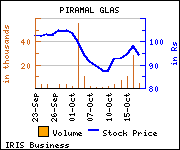 Shares ofthe companyare trading at Rs 100.95, up Rs 6.8, or 7.22% at the Bombay Stock Exchange (BSE) on Monday at 2:17 p.m.The scrip has touched an intra-day high of Rs 102.10 and low of Rs 90.40. The total volume of shares traded at the BSE is 42,702.In the earlier session, the shares lost 4.03%, or Rs 3.95, at Rs 94.15. Currently, the stock is trading down 4.76% from its 52-week high of Rs 106.00 and above 35.78% over the 52-week low of Rs 74.35.