MCX climbs on IBMA clarification
By IRIS
Published: 02nd September 2013 02:18 PM
Last Updated: 02nd September 2013 02:18 PM
Multi Commodity Exchange of India (MCX), the largest commodity exchange in India, climbed on Monday after it clarified that IBMA is not a member of MCX and they had traded in the capacity of a client.
"As per the company's records, IBMA volume as a percentage of total exchange turnover was 0.09% in FY2012-13 and 0.17% in FY2013-14. As on date, the exchange does not have any open position or pay-in/ pay-out obligations with respect to IBMA,' MCX said.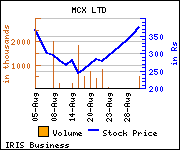 Shares ofthe companyare trading at Rs 391.55, up Rs 18.6, or 4.99% at the Bombay Stock Exchange (BSE) on Monday at 1:08 p.m.The scrip has touched an intra-day high of Rs 391.55 and low of Rs 381.55. The total volume of shares traded at the BSE is 96,187.In the earlier session, the shares gained 5%, or Rs 17.75, at Rs 372.95. Currently, the stock is trading down 75.79% from its 52-week high of Rs 1,617 and above 64.31% over the 52-week low of Rs 238.30.
Share Price Movement Period Pricein Rs Gain/(Loss) in Rs in % 1 Week 849.20 (23.00) (2.71) 1 Month 910.60 (84.40) (9.27) 3 Months 854.55 (28.35) (3.32) 6 Months 1,479.65 (653.45) (44.16) 1 Year 1,047.40 (221.20) (21.12) Note: Based on previous day closing price.