Lupin gains after expanding US pediatric brands portfolio
By IRIS
Published: 24th September 2013 11:18 AM
Last Updated: 24th September 2013 11:18 AM

Lupin, one of the leading pharmaceutical companies in India, gained on Tuesday after the company and its US subsidiary, Lupin Pharmaceuticals signed a strategic coâpromotion agreement with US based Onset Dermatologics that grants Lupin exclusive rights to promote Onset's Locoid Lotion to pediatricians in the US. Locoid is the most highly prescribed midâpotency steroid brand in the US.
The addition of Locoid Lotion will enable Lupin to strengthen its US Brand business and expand its product portfolio for the US Pediatrics segment.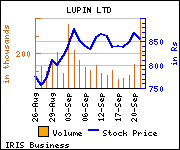 Shares ofthe companyare trading at Rs 861.35, up Rs 7.25, or 0.85% at the Bombay Stock Exchange (BSE) on Tuesday at 10:32 a.m.The scrip has touched an intra-day high of Rs 868.65 and low of Rs 854. The total volume of shares traded at the BSE is 10,827.In the earlier session, the shares fell 1.56%, or Rs 13.5, at Rs 854.10. Currently, the stock is trading down 5.14% from its 52-week high of Rs 908 and above 59.46% over the 52-week low of Rs 540.15.
Share Price Movement Period Pricein Rs Gain/(Loss) in Rs in % 1 Week 783.20 4.50 0.57 1 Month 748.90 38.80 5.18 3 Months 627.85 159.85 25.46 6 Months 606.20 181.50 29.94 1 Year 526.55 261.15 49.60 Note: Based on previous day closing price.