Indiabulls Real Estate jumps after FIM stake in joint venture
By IRIS
Published: 19th August 2013 01:18 PM
Last Updated: 19th August 2013 01:18 PM

Indiabulls Real Estate, one of the largest real estate companies in India, surged on Monday after it purchased the entire stake of US based fund, FIM, in its 7 project subsidiaries for a total consideration of Rs 11.72 billion. FIM, a FVCI of Farallon Capital Management LLC, held 49% equity stake in these JVs and had invested Rs 8.47 billion in 2007.
With the purchase of Farallon's entire stake, these project subsidiaries will now be 100% owned by Indiabulls Real Estate. These projects companies are currently building residential apartments in over 120 acres in Gurgaon, 160 acres in other regions of NCR, Delhi and 15 acres in Chennai.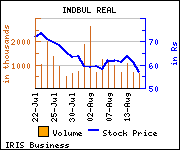 Shares of Indiabulls Real Estate are trading at Rs 58.75, up Rs 1.7, or 2.98% at the Bombay Stock Exchange (BSE) on Monday at 12:15 p.m.The scrip has touched an intra-day high of Rs 59.85 and low of Rs 55.50. The total volume of shares traded at the BSE is 494,135.In the earlier session, the shares fell 6.4%, or Rs 3.9, at Rs 57.05.Currently, the stock is trading down 32.7% from its 52-week high of Rs 87.30 and above 40.72% over the 52-week low of Rs 41.75.
Share Price Movement Period Pricein Rs Gain/(Loss) in Rs in % 1 Week 68.40 (5.00) (7.31) 1 Month 76.80 (13.40) (17.45) 3 Months 53.60 9.80 18.28 6 Months 71.30 (7.90) (11.08) 1 Year 58.40 5.00 8.56 Note: Based on previous day closing price.