Idea Cellular hits new high after signing unified license with DoT
By IRIS
Published: 14th October 2013 03:18 PM
Last Updated: 14th October 2013 03:18 PM
Idea Cellular, one of the leading telecom operators and a part of the Aditya Birla group, touched a new high on Monday after the company signed Unified License with the Department of Telecommunications (DoT).
The company signed Unified Licensefor its seven service areas namely Tamil Nadu, Orissa, West Bengal, Kolkata, Assam, North East and Jammu & Kashmir.Shares of the company are trading at Rs 185.20, up Rs 1.25, or 0.68% at the Bombay Stock Exchange (BSE) on Monday at 2:22 p.m.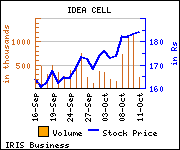 The scrip has touched an intra-day high of Rs 186.70 and low of Rs 183. The total volume of shares traded at the BSE is 125,605.In the earlier session, the shares climbed 0.33%, or Rs 0.59, at Rs 183.95. Currently, the stock is trading down 0.11% from its 52-week high of Rs 185.40 and above 132.37% over the 52-week low of Rs 79.70.
Share Price Movement Period Pricein Rs Gain/(Loss) in Rs in % 1 Week 136.00 3.95 2.90 1 Month 130.30 9.65 7.41 3 Months 107.05 32.90 30.73 6 Months 98.85 41.10 41.58 1 Year 76.20 63.75 83.66 Note: Based on previous day closing price.