IDFC's share price rally lifts market value by Rs 10.5 bn
By IRIS
Published: 12th September 2013 01:18 PM
Last Updated: 12th September 2013 01:18 PM
Infrastructure Development Finance Company (IDFC), integrated infrastructure finance player, surged on Thursday after Reserve Bank of India (RBI) removed the restriction placed on the purchase of shares by FIIs with immediate effect.
The aggregate share holdings in IDFC by FIIs under the Portfolio Investment Scheme (PIS) have gone below the prescribed threshold limit stipulated under the extant FDI policy.
The share price rally raised IDFC' market capitalisation by Rs 10.53 billion to stand at Rs 150.29 billion.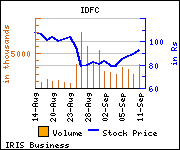 Shares ofthe companyare trading at Rs 99.20, up Rs 6.95, or 7.53% at the Bombay Stock Exchange (BSE) on Thursday at 12:18 p.m.The scrip has touched an intra-day high of Rs 99.75 and low of Rs 95.65. The total volume of shares traded at the BSE is 2,922,639.In the earlier session, the shares gained 3.42%, or Rs 3.05, at Rs 92.25. Currently, the stock is trading down 46.48% from its 52-week high of Rs 185.35 and above 30.1% over the 52-week low of Rs 76.25.
Share Price Movement Period Pricein Rs Gain/(Loss) in Rs in % 1 Week 143.25 (6.75) (4.71) 1 Month 154.30 (17.80) (11.54) 3 Months 143.15 (6.65) (4.65) 6 Months 170.25 (33.75) (19.82) 1 Year 131.50 5.00 3.80 Note: Based on previous day closing price.