Hexaware climbs on buzz Baring PE picks stake
By IRIS
Published: 23rd August 2013 02:18 PM
Last Updated: 23rd August 2013 02:18 PM
Hexaware Technologies, IT and BPO service company, gained on Friday after the media reports quoted that its board will meet today to approve the purchase of a controlling stake in the company by Baring Private Equity Partners Asia.
Barings reportedly in talks to buy 42% stake from the family of Hexaware founder, Atul Nishar and private equity firm General Atlantic Partners, which is valued around USD 400 million.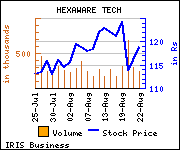 Shares ofthe companyare trading at Rs 121.95, up Rs 3.1, or 2.61% at the Bombay Stock Exchange (BSE) on Friday at 12:50 p.m.The scrip has touched an intra-day high of Rs 125.90 and low of Rs 119.10. The total volume of shares traded at the BSE is 579,687.In the earlier session, the shares rose 2.41%, or Rs 2.8, at Rs 118.85. Currently, the stock is trading down 14.12% from its 52-week high of Rs 142 and above 68.67% over the 52-week low of Rs 72.30.
Share Price Movement Period Pricein Rs Gain/(Loss) in Rs in % 1 Week 78.75 0.40 0.51 1 Month 76.20 2.95 3.87 3 Months 85.50 (6.35) (7.43) 6 Months 86.50 (7.35) (8.50) 1 Year 125.30 (46.15) (36.83) Note: Based on previous day closing price.