Glenmark Pharma climbs as subsidiary files lawsuit in US
By IRIS
Published: 10th October 2013 04:18 PM
Last Updated: 10th October 2013 04:18 PM
Glenmark Pharmaceuticals, a manufacturer of generic formulation products and API, climbed on Thursday after its subsidiary, Glenmark Generics Inc, USA filed a lawsuit in the court of chancery of the state of Delaware against Astellas Pharma Europe B.V, Astellas International, Triax Pharmaceuticals, LLC, Precision Dermatology, Inc, Onset Dermatologics, LLC and Metacon Labs.
The lawsuit seeks to enforce Glenmark's exclusive royalty-bearing license agreement with Triax Pharmaceuticals, Astellas Pharma Europe BV and Astellas Pharma International BV.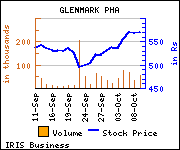 Shares of the companysettle at Rs 586.70, up Rs 16.15, or 2.83% at the Bombay Stock Exchange (BSE) on Thursday.The scrip has touched an intra-day high of Rs 601.45 and low of Rs 578.05. The total volume of shares traded at the BSE is 127,770.In the earlier session, the shares climbed 0.35%, or Rs 2, at Rs 570.55. Currently, the stock is trading down 4.13% from its 52-week high of Rs 612 and above 49.19% over the 52-week low of Rs 393.25.
Share Price Movement Period Pricein Rs Gain/(Loss) in Rs in % 1 Week 570.25 (27.40) (4.80) 1 Month 572.00 (29.15) (5.10) 3 Months 485.90 56.95 11.72 6 Months 519.70 23.15 4.45 1 Year 359.00 183.85 51.21 Note: Based on previous day closing price.