Four Soft climbs on completion of stake sale in subsidiaries
By IRIS
Published: 07th October 2013 12:18 PM
Last Updated: 07th October 2013 12:18 PM
Four Soft, software solutions provider, climbed on Monday afterthe companycompleted the sale of the business and investments in foreign subsidiaries for a rupee equivalent of USD 22.50 million and the company's entire shareholding in its wholly owned foreign subsidiaries for a rupee equivalent of USD 20.90 million to Transport IT Solutions.
The aforesaid transfers were duly approved by the shareholders by way of postal ballot with requisite majority on September 18, 2013.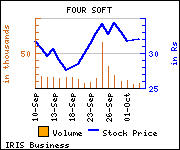 Shares ofthe companyare trading at Rs 33.50, up Rs 1.55, or 4.85% at the Bombay Stock Exchange (BSE) on Monday at 11:54 a.m.The scrip has touched an intra-day high of Rs 33.50 and low of Rs 33.50. The total volume of shares traded at the BSE is 4,350.In the earlier session, the shares climbed 0.47%, or Rs 0.15, at Rs 31.95. Currently, the stock is trading down 6.29% from its 52-week high of Rs 35.75 and above 313.07% over the 52-week low of Rs 8.11.
Share Price Movement Period Pricein Rs Gain/(Loss) in Rs in % 1 Week 12.40 0.68 5.48 1 Month 13.34 (0.26) (1.95) 3 Months 12.09 0.99 8.19 6 Months 19.35 (6.27) (32.40) 1 Year 7.02 6.06 86.32 Note: Based on previous day closing price.