Dr Reddy's falls after losing patent case in US court
By IRIS
Published: 27th September 2013 01:18 PM
Last Updated: 27th September 2013 01:18 PM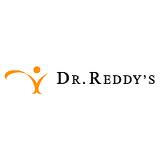 Dr Reddy'S Laboratories, an integrated global pharmaceutical company, fell on Friday after the companylost the Lunesta patent case in the U.S. court.
Dainippon Sumitomo Pharma Co.'s Sunovion won an Appeals Court ruling that the company's generic version of the sleep aid Lunesta would infringe a patent that expires next year.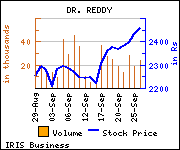 Shares of the company are trading at Rs 2,425.50, down Rs 30.4, or 1.24% at the Bombay Stock Exchange (BSE) on Friday at 12:43 p.m.The scrip has touched an intra-day high of Rs 2,455 and low of Rs 2,419. The total volume of shares traded at the BSE is 9,372.In the earlier session, the shares climbed 1.02%, or Rs 24.7, at Rs 2,455.90. Currently, the stock is trading down 1.87% from its 52-week high of Rs 2,471.70 and above 50% over the 52-week low of Rs 1,617.
Share Price Movement Period Pricein Rs Gain/(Loss) in Rs in % 1 Week 2,176.50 (52.70) (2.42) 1 Month 2,051.05 72.75 3.55 3 Months 1,751.95 371.85 21.22 6 Months 1,819.60 304.20 16.72 1 Year 1,581.80 542.00 34.26 Note: Based on previous day closing price.