Cerebra surges 20% on tie-up with E-Waste Systems
By IRIS
Published: 08th October 2013 01:18 PM
Last Updated: 08th October 2013 01:18 PM
Cerebra Integrated Technologies, India's leading total IT Solutions provider, surged on Tuesday after it signed a MoU with E-Waste Systems Inc, a UK head quartered company for setting up of its Bangalore E-Waste facility.
Cerebra is in the process of setting up this recycling facility in Narsapura, Bangalore which is growing to be one of the largest and fastest growing industrial zones.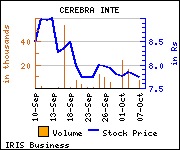 Shares ofthe companyare trading at Rs 9.28, up Rs 1.54, or 19.90% at the Bombay Stock Exchange (BSE) on Tuesday at 12:39 p.m.The scrip has touched an intra-day high of Rs 9.28 and low of Rs 7.77. The total volume of shares traded at the BSE is 31,581.In the earlier session, the shares lost 0.9%, or Rs 0.06, at Rs 7.74. Currently, the stock is trading down 68.38% from its 52-week high of Rs 29.35 and above 28% over the 52-week low of Rs 7.25.
Share Price Movement Period Pricein Rs Gain/(Loss) in Rs in % 1 Week 18.75 (0.90) (4.80) 1 Month 14.94 2.91 19.48 3 Months 16.20 1.65 10.19 6 Months 17.90 (0.05) (0.28) 1 Year 27.15 (9.30) (34.25) Note: Based on previous day closing price.