Aurobindo up after board approves acquisition of Hyacinths Pharma
By IRIS
Published: 13th September 2013 12:18 PM
Last Updated: 13th September 2013 12:18 PM
Aurobindo Pharma, a mid-size pharmaceutical company, gained on Friday after its board approved to acquire Hyacinths Pharma, from its existing shareholders.
The board also approved to acquire 25% stake in Silicon Life Sciences from the existing shareholder, ABS Mercantiles. The acquisition will benefit the company consolidate its operations, the company said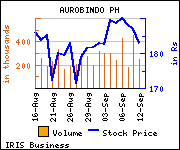 Shares ofthe companyare trading at Rs 185.20, up Rs 2.45, or 1.34% at the Bombay Stock Exchange (BSE) on Friday at 10:55 a.m.The scrip has touched an intra-day high of Rs 187.55 and low of Rs 184. The total volume of shares traded at the BSE is 99,158.In the earlier session, the shares declined 2.19%, or Rs 4.1, at Rs 182.75. Currently, the stock is trading down 9.61% from its 52-week high of Rs 204.90 and above 51.55% over the 52-week low of Rs 122.20.
Share Price Movement Period Pricein Rs Gain/(Loss) in Rs in % 1 Week 169.60 1.35 0.80 1 Month 174.50 (3.55) (2.03) 3 Months 139.75 31.20 22.33 6 Months 194.20 (23.25) (11.97) 1 Year 109.05 61.90 56.76 Note: Based on previous day closing price.