ACC drops as Q3 earnings plunge more than forecast
By IRIS
Published: 23rd October 2013 02:18 PM
Last Updated: 23rd October 2013 02:18 PM
ACC, one of the leading cement makers, dropped on Wednesday after it posted a fall of 51.04% in consolidated in third quarter earnings. It earned consolidated net profit to Rs 1.18 billion for the quarter ended Sept. 30, 2013 as compared to Rs 2.41 billion in the same period last year.
Total consolidated income of the company decreased 0.66% to Rs 25.69 billion for the quarter ended Sept. 30, 2013 from Rs 25.86 billion in the year ago period.Analysts, on average, expected ACC to report a profit of Rs 1.75 billion on sales of Rs 25 billion.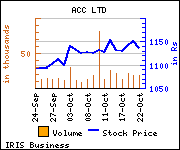 Shares ofthe companyare trading at Rs 1,114, down Rs 22.25, or 1.96% at the Bombay Stock Exchange (BSE) on Wednesday at 1:48 p.m.The scrip has touched an intra-day high of Rs 1,130.50 and low of Rs 1,100. The total volume of shares traded at the BSE is 42,009.In the earlier session, the shares fell 1.18%, or Rs 13.6, at Rs 1,136.25. Currently, the stock is trading down 25.08% from its 52-week high of Rs 1,487 and above 22.14% over the 52-week low of Rs 912.05.